Samebike Polaris H, Blue
New Models $100 Off Code
SAM2023
✅ In Stock Now. Ship out in 2 business days.
About the Polaris Bike

How to balance the price and performance of a "first" electric bike? At Samebike, we have featured the 750W motor, hydraulic brake, and full suspension to the compact-styled frame, to reduce its price to under $1,000. Pick up the Samebike Polaris as your first high-performance ebike at an affordable price. Join the new cycling group for commute, workout, and adventure now!
Package List & Onwer's Tools

What's in the Package?

The Polaris Electric Bike * 1
Battery * 1
Battery Charger * 1
Front Tire * 1
Pedal Set * 1
Quick-release Skewer * 1
Seat Set * 1
Toolkit * 1
Owner's Manual * 1

Other Resouces
Free Shipping to USA

Cost & Destination

Currently, we only offer FREE FedEx/UPS Ground shipping to the contiguous 48 states in the US. Do not process orders on weekends.

Shipping Time

| | | |
| --- | --- | --- |
| Destination | Processing time | Shipping time |
| The United States | 1-2 business days | 3-12 business days |

Local Pickup

Customers can come to our warehouses and pickup selected models.

There will be $50 off per bike for pickup orders.

Learn more about our SHIPPING POLICY
Returns & Warranty

Customers have 15 Days to experience and decide whether to keep the bike. To return an item without manufacturing defects, the customer is responsible for return shipping and restocking costs.

All bikes are covered by our all-inclusive warranty against all manufacturing defects for the original buyer/owner.

| | | |
| --- | --- | --- |
| Parts | Defective | Period |
| Motor | Not functional / coil burnt | 1 Year |
| Battery | Unable to charge / mileage per charge < 20% | 1 Year |
| Controller | Not functional / Error code | 1 Year |
| Charger | Not charging | 1 Year |
| Display | Error code | 1 Year |
| Pedal-assist sensor | No assistance /insensitive | 1 Year |
| Lights | Not lit | 1 Year |
| Frame | Deformation / desoldering / cracking | 1 Year |
| Front fork | Deformation / fracture / no shock absorption | 1 Year |
| Seatpost | Deformation / desoldering / cracking | 1 Year |
| Handlebar | Deformation / desoldering / cracking | 1 Year |
| Stem | Deformation / desoldering / cracking | 1 Year |
| Headset | Failure / unsmooth steering | 1 Year |
| Brakes | Failure / rebound blocked | 1 Year |
| Brake disc | Deformation / fracture | 1 Year |
| Crankset | Deformation / fracture | 1 Year |
| Freewheel | Deformation / detachment | 1 Year |
| Derailleur | Stuck / abnormal noise | 1 Year |
| Shifter | Stuck/abnormal noise | 1 Year |
Powerful and Lasting Riding System
750W DC Geared Hub Motor
Different from most electric bikes for beginners, the Polaris features a 750W 60Nm torque geared hub motor. The powerful motor allows you to keep the speed between 10-25+ miles easily for 5 levels of PAS and throttle. The Permanent Magnet DC (PMDC) motor needs less maintenance. It usually sustains an energy efficiency of over 80% even without maintenance for 2-3 years.
672Wh Long-lasting Li-ion Battery
As the "heart" of the driving system, the 48V 14Ah battery of the Polaris can store 672Wh energy per charge and power your 31-62 miles trip continuously. The battery, integrated into the frame with three bolts, has better protection to resist water/dust, and can also avoid falling off during thrilling off-road riding. The 21700 battery cells are MSDS, UN38.3, and CE-certificated for use safely indoors and outdoors.
Custom YL81F LCD Display
A functional computer/ instrument shows the riding information (including speed, miles, battery, gears,) and bike status (such as brake/ walk-mode/ headlight,) on the 3.5" colored LCD screen. The 5V 1A USB-A port integrated into the keyboard can charge your phone when the display is on. And the new display supports a login password, you can still ride the bike even if the key was lost.
All-around Improved Riding Experience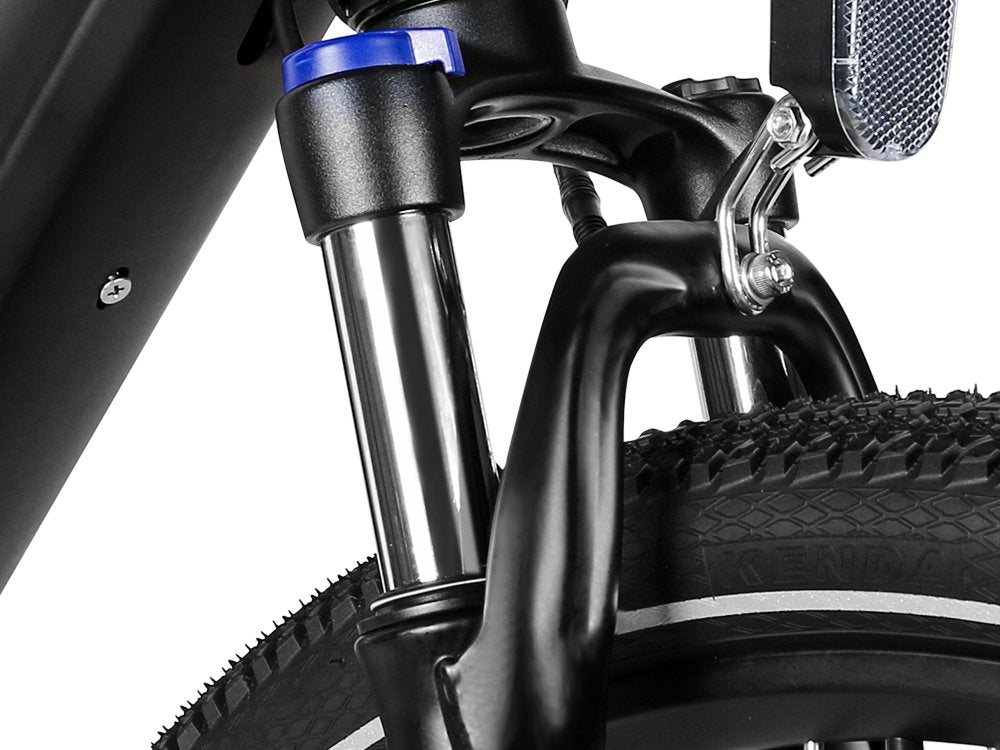 Suspension Front Fork
The adjustable and lockable suspension aluminum alloy front fork allows for maximum suspension travel of 80mm, effectively absorbing excessive vibration/bumps, thereby reducing wrist fatigue and discomfort.
KENDA 26"*2.1" MTB Tires
As your first ebike, the 2.1" mountain tires are easier to start than fat tires and have higher energy efficiency. For electric, hybrid, and pure human cycling, it means has longer riding distances than other bikes of the same energy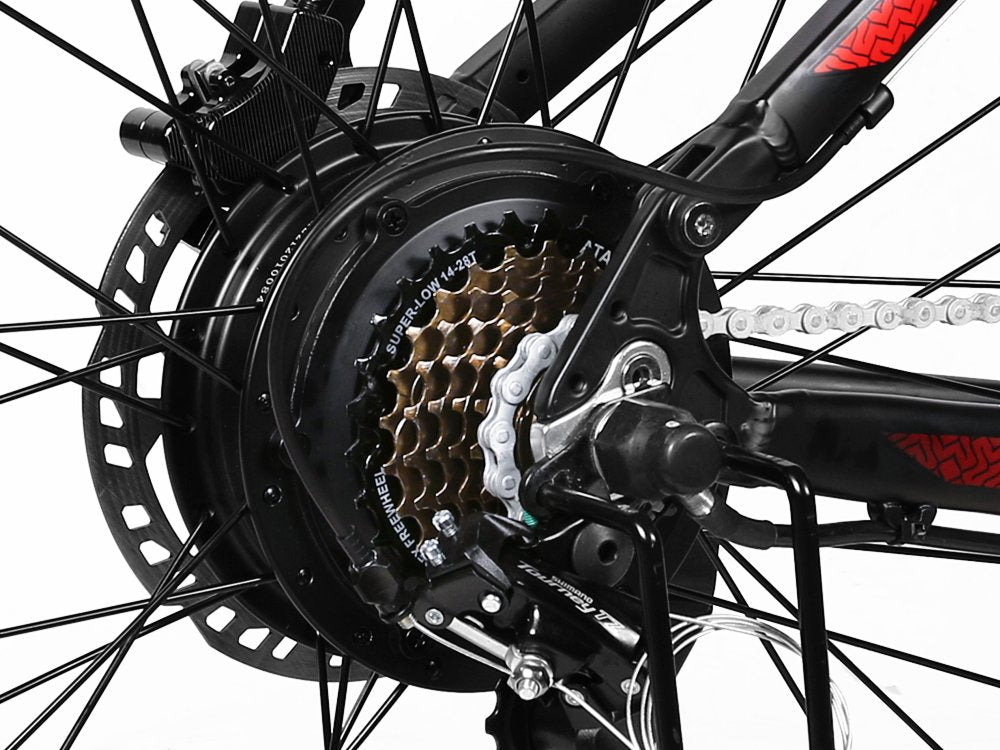 Shimano 7-speed Gears
The 42T * 14-28T 7-speed gear transmission system paired with the Shimano derailleur ensures a smooth switch among gears. You can choose the proper transmission ratios at any time, to conquer 25° slopes with or without motor assistance, no matter what terrain you are riding on.
26" Wide BMX Handlebar
As the most commonly used handlebar type for mountain bikes, Riser bars are easier to handle and more comfortable than Flat bars. Provides some adjustment space, which is undoubtedly more practical for beginner riders and advanced long-distance cycling in the future.
Optional Disc Brakes
Using mechanical/hydraulic disc brakes with 180mm front and rear rotors, customized semi-metal brake pads provide strong braking force and can quickly stop under a load of 220 pounds to respond to emergency situations, ensuring personal safety.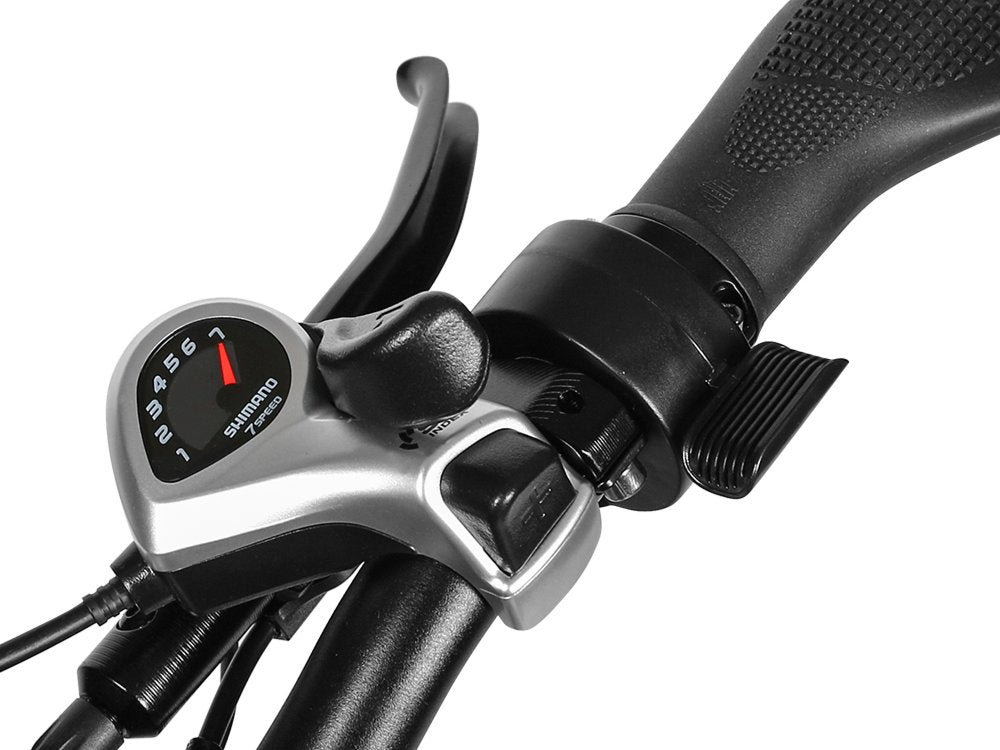 Ergonomic PVC Grip
The ergonomic non-slip grip made of PVC material, paired with a thumb throttle and Shimano rotary derailleur shifter, can easily operate the handlebar and gears in situations such as water or sweaty palms, controlling balance and speed.
1,000Lbs Shock Absorber
The FA-688 four-link coil rear suspension effectively improves the bumpy feeling caused by high-speed cycling on uneven roads, making it convenient for you to quickly shuttle freely and safely on the road surface for true adventure cycling.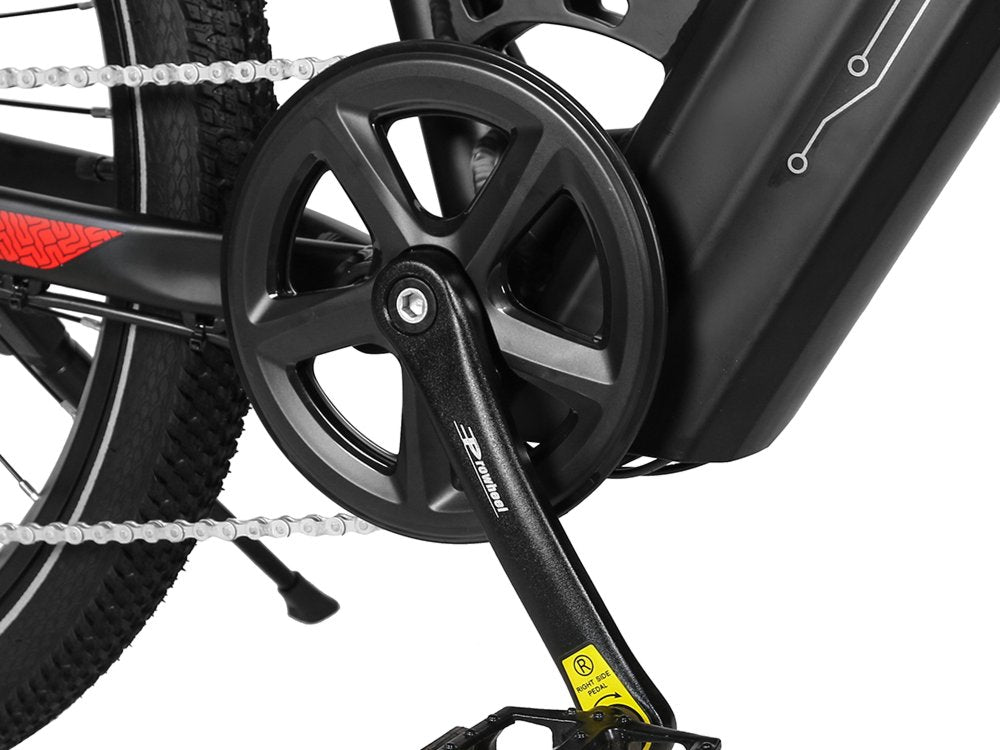 Steel Chainring with Guard
The aluminum alloy protective cover will provide perfect protection for the sprocket, avoiding deformation/damage caused by accidental collisions such as parking bicycles or flying stones during cycling. It can greatly extend the lifespan of the crankset.
Widened TPE Saddle Seat
The widened saddle is made of softer and more resilient TPE material, and the bracket is designed with suspension to avoid compression on the tailbone during long-distance cycling, which can cause pain in the tailbone and hinder cycling again in a short period of time.
Answered Questions for Polaris XD26
Can I take the battery off every time I park the bike for security?

The battery is fixed by three bolts. Although you can take off or assemble it you have to use a screwdriver any time, and just because of this, it is stoled very difficult by someone else. The display is designed with the function of the power-on password, which can guarantee bike security to some extent.
How well will it work for someone 6'5"? I'm concerned about the shorter reach distance.

The saddle height can be adjusted by you, but you need to buy a 28.6mm stem riser to add the reach distance, making your height can mate the bike and then comfortably ride the bike.
Can I install a rear luggage rack?

We don`t provide the rear rack temporarily but you can buy a universal rear rack on Amazon. Besides, we will recommend you buy RS-A01 which has front and rear racks if you need to load something daily. And the two bike models both our new product and RS-A01 have XD26 the same power for motor and battery.
How many years will the battery last? Can I replace it when that time comes?

The battery can circularly charge beyond 800 times, thus it can be used for three to five years, depending on your use frequency. And you can contact us to provide free to change a new battery if the battery is broken in one year.
Can I adjust or lock the rear suspension?

The rear suspension can`t adjust now. But you can purchase a 170mm rear suspension on Amazon if you want to fit an adjustable rear suspension.
Does this bike come with a tail light?

The bike has not installed the tail light but has a reflector that was assembled under the saddle, which can accord with American bike security standards. You can buy the universal tail light on Amazon if you need to use it, the bike has a reserved port on the controller.
Is the battery waterproof?

The battery is integrated into the frame and the waterproof grade can reach IP65. As the result, it has excellent performance shown as waterproof and dustproof. You can ride the bike in rain but that doesn`t mean you can immerse it in water.
Is the bike UL listed?

By the Samebike website, our ebike has been sold to Europe, Asia, Australia, and North America, so our bikes all need to be through UL\CE\KC\FCC\PSE\ROSH-certificated, in order to guarantee we can sell our bikes to the worldwide country.
Ask a Question
Geometry & Technical Specifications
Basic Specifications

Range per charge

50 - 62 miles for pedal-assist